To display the Maintenance Menu, tap on the Maint button underneath the list of jobs.

The maintenance menu is also available from the shortcuts menu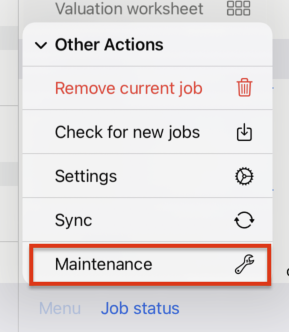 Then Select Maintenance to display the Maintenance menu.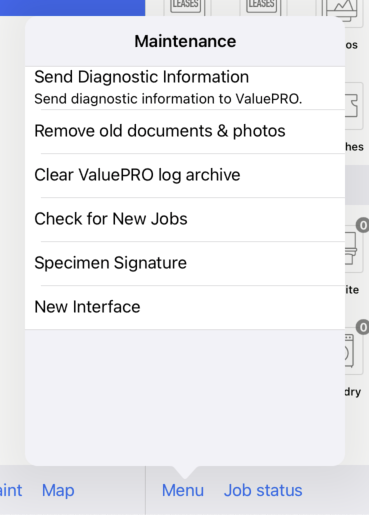 Sending Diagnostic information to ValuePRO from within the iOS App
Occasionally the support team may request the user to send a copy of the diagnostic information from your device to ValuePRO Support, this may done by tapping on "Send Diagnostic Information".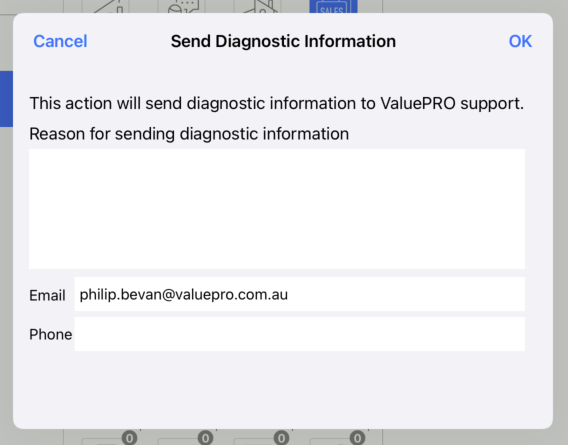 Please enter the reason for sending, email address and phone number.
The diagnostic information contains the current local ValuePRO database, journal, lazy loading database and log file.
Clear Documents
Taking this option will clear and documents for Completed and Deleted Jobs. Note a warning message is displayed before the documents are cleared.
Clear ValuePRO Log Archive
If the setting to create archive log file for sync failures is set to "ON", then log files will be saved into the archive log file. This option will clear the archive log file folder. Note a warning message is displayed before the archives are cleared.
Specimen Signature
Specimen Signature allows a specimen signature for this device.
This is used to verify a signature entered against a job.