The ValuePRO address database is updated quarterly from official address listings released and recognised by Australia Post. This data is used to validate suburb/postcode combinations for valuation and sale addresses before sending report packets.
If an address has been entered into ValuePRO where the suburb and postcode are not listed in the database you will receive an error similar to the one below.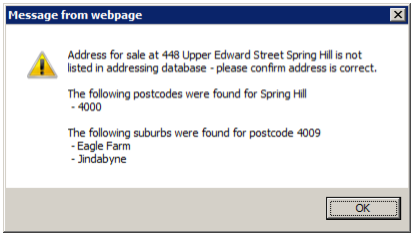 Here we show the address type (valuation or sale), the address itself in the case of sales and a lists of matching postcodes for the suburb/state and matching suburbs for the state/postcode. The user would then open the corresponding address field and update accordingly.
Once the update has been done, the user would refresh the send screen or click the Send button in the job to regenerate the packet, which would again run the validation to recheck all addresses. Supposing there was an error with another sale address, once the first address is fixed the second address error will be reported. Once all errors have been resolved the user can send the packet as normal.
It is possible that due to new subdivisions, rezoning, etc there may be the occasional misreporting of suburb/postcode mismatches – there is a lag of up to 3 months for new addresses, as this is the frequency at which the new address lists are related from our provider. In the event a user receives an error where they believe the suburb and postcode are correct, they should first confirm against the Australia Post postcode finder at http://auspost.com.au/apps/postcode.html. If the suburb/postcode match is confirmed in that database, they should forward the job number, a screenshot of the error message and a screenshot of the postcode finder search results to support@valuepro.com.au.