Tapping on a job will make the job the active job and the Tabs associated with the job will be displayed in the Tabs section.
The list of fields will also be refreshed and will display the list of fields associated with the selected tab.
 When in landscape mode the list of Jobs is hidden until you tap the "Jobs" button, after selecting a job the list of jobs will be hidden. You may also tap to the right of the list of jobs to hide the list without selecting another job.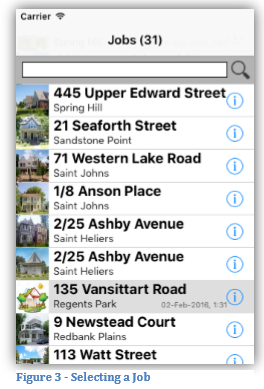 Entering Text in the job search fields will restrict the list of jobs whose Address matches the entered text.
The search will ignore that case of the address & the entered text.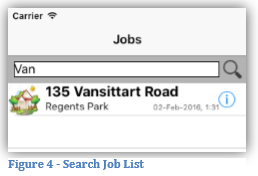 When displaying the List of Jobs, tapping on the "info"  button will display the details for the job.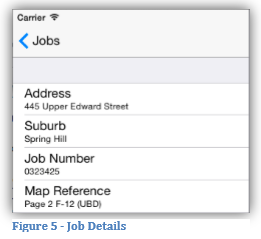 Display current Jobs on Map
Tapping on the Map button will display the current job on a Map.
Tapping on a ping will display the address in a popup window.
Tapping on the info button on the popup will change the job being edited to the job.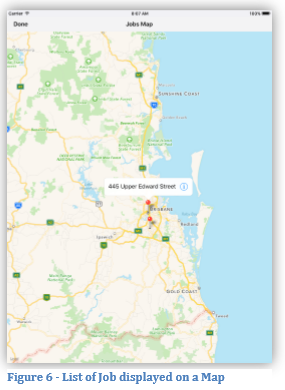 Sorting the Job List
To change the order of the Jobs in the Job List, tap on the Sort Button. This will display the Job Sort Order screen.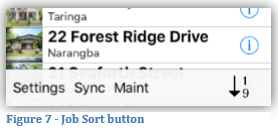 Tap on the required field to sort by that field.
Tap on the Up or Down arrows to sort the list in Ascending or Descending order.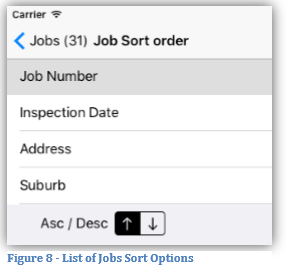 Here the Job List has been sorted by Suburb in descending order.