It is possible to use a Bluetooth Disto in conjunction with the sketching software to speed up the entering of precise measurements of distances.
The Bluetooth Disto models that are supported are
Leica D510 (recommended)
Leica D2
Leica D110
Leica D810
The following Disto models are supported for historical purposes only and require extra hardware which is no longer available.
The measurements on the disto is transferred to the ruler, which in turn updates the length of the line being edited on the sketch.
Bluetooth Settings
The Disto type can be updated by tapping on the Disto Type cell. The BT Moves to next line setting controls whether the line being edited automatically moves to the next line when editing a building.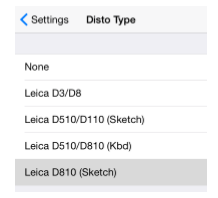 The list of available distos is shown in the above screenshot.
Connecting a Bluetooth Disto
In most circumstances a disto will automatically connect to the iPad. If the iPad is not connected to the BT disto you may see the following message prompting you to pair the iPad with the Disto.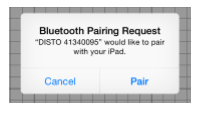 When a BT is connected and the iPad is ready to receive input from the Disto, a BT icon is displayed as shown below.

Taking a Bluetooth Measurement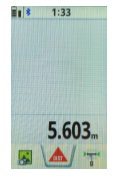 After taking a measurement on the Disto, the measurement is transferred to the Ruler. This in turn will change the length of the line being edited.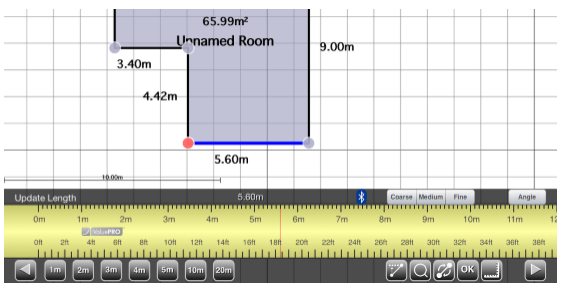 Using the Plus / Minus feature on the Disto.
If you wish to use the +/- feature on the Disto then you can tap the BT Icon to enter into +/- mode.

The Icon will change to indicate the new mode.
In this mode the input from the Disto is ignored until the calculation is completed.
Once the = key has been pressed the total is displayed on the Disto.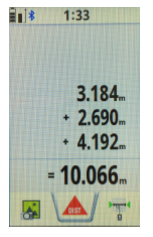 At this point pressing the = key twice will transfer the final distance to the ruler and hence update the length of the line.
For distos such as the Leica D2 that do not have an equals button, the user can press in the "Bluetooth" button twice.
This will send the current value to the device and update the line distance to the value from the disto.