There are number of settings that are available to customise the way in which the sketching part of the app works.
All Occupancies
This setting controls whether a sketch applies to all occupancies or to the current occupancy being edited.
 If Sketching for multiple occupancies is not allowed in your instance then this setting is set to "Always" and cannot be changed.
If this setting is set to "OFF" then pressing the sketch button will create/edit a sketch for the occupancy that is currently being edited. 
Measurement System
There are 2 measurement systems available Metric & Imperial. The default measurement system is Metric.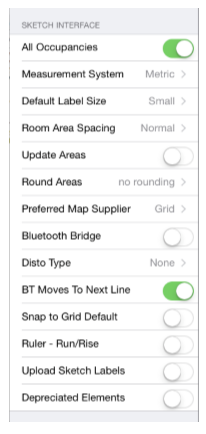 Default Label Size
The default label size allow you to control the size of the labels when a room is created.

Room Area Label Spacing
There are 2 values for the Room label area spacing Normal & Close. This controls the Default Area Label Spacing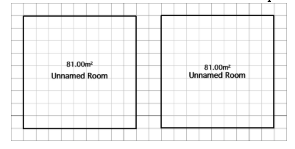 Round Areas
 This setting controls the rounding for the various area types (Living Area, Garage Area, Outdoor Area & Ancillary Area) when they are set on the Valuation table.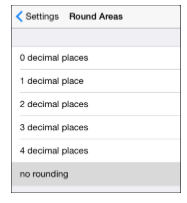 Preferred Map Supplier
This setting is no longer used.
Bluetooth Bridge
This setting is used for historical purposes only and was used to connect the iPad to older Bluetooth bridge.
This setting should be left to "Off" unless you are using an older Bluetooth bridge.
Disto Type
The app supports interfacing to various Lieca Disto laser measuring devices.
Leica D3/D8 are legacy devices and require a Bluetooth bridge that are no longer available.
Leica D510 / D110 (Sketch) are devices that directly interface without having to pair with the iPad.
Leica D510 / D810 (Kbd) uses the devices in "Keyboard mode" (this is a setting on the Bluetooth device itself).
Leica D810 (Sketch) works similarly to the D510/D110 setting, but due to the BT interface presented by the Leica D810 this will only work if no other Bluetooth devices are within range of the iPad.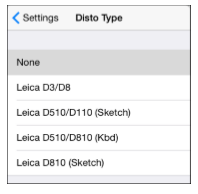 BT Moves to next Line
This setting controls what happens after a Bluetooth measurement is received by the iPad. If the line being edited is part of a completed room and his setting is set to "ON", then the line being edited will move to the next line in the room.
Snap to Grid Default
When a sketch is edited and this setting is set to "ON" then all points added will snap to a grid point.
Ruler Run/Rise
This controls the default ruler that is displayed when a line is tapped on or new lines are being added.
By default the ruler type is a ruler of type "Tape Measure" as shown below.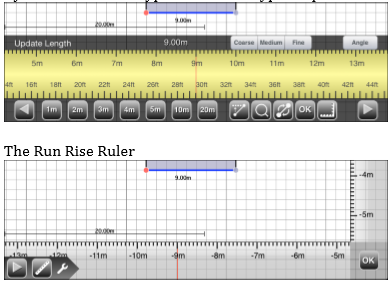 Upload Sketch Labels
When a sketch is saved and then synced to the server a number of files are uploaded.

Changing the settings to "ON" will upload 2 extra files

These extra files will contain any labels that are hidden.
Depreciated Elements
This setting is no longer used.