Professionally hosting a Software as a Service application such as ValuePRO is a very technically challenging and indeed expensive task - one that our customers wisely choose to delegate to ourselves. We have unrivalled expertise in what it takes to successfully host the application and deliver scalable and robust service delivery for end users.
Would ValuePRO consider allowing us to host the application on our own Equipment?
Generally we would discourage this for almost any use case other than where there is a local legislative or licensing requirement whereby the application could not be used by the customer if it were delivered in a software as a service model.
Examples would include multi-thousand user implementation for Lenders and Financial Institutions or a government owned company or organisation where data sovereignty rules mandate the use of on-premises software only.
To qualify, your organisation would need to have a significant IT service infrastructure as well as full time highly qualified staff with expertise in WinTel environments and Hyper-V and/or VM Ware.
Certainly the product cannot and should not be self hosted on sites with fewer than 500 users.
Advantages to the Software as a Service Model
By letting ValuePRO handle the hosting of the application, you are leveraging off our expertise, experience and significant investments in capex and opex.
Advantages include but certainly aren't limited to:
Clear lines of responsibility - a single "throat to choke" and faster times to resolve issues whenever there are investigations of application performance issues.
Automatic access to the latest software upgrades. ValuePRO is being constantly worked upon and upgraded - by having us host the application for you, there are fewer steps involved in keeping the application up to date and for your firm to benefit from the extensive R&D we do on your behalf constantly.
Simplified and faster access to technical support - our support teams ability to access the infrastructure where the product is served from means we can give you excellent response and resolution times on almost any query you have for us - a huge advantage in the fast paced mission critical valuation environment we serve.
If we did Host it ourselves, what would we have to manage?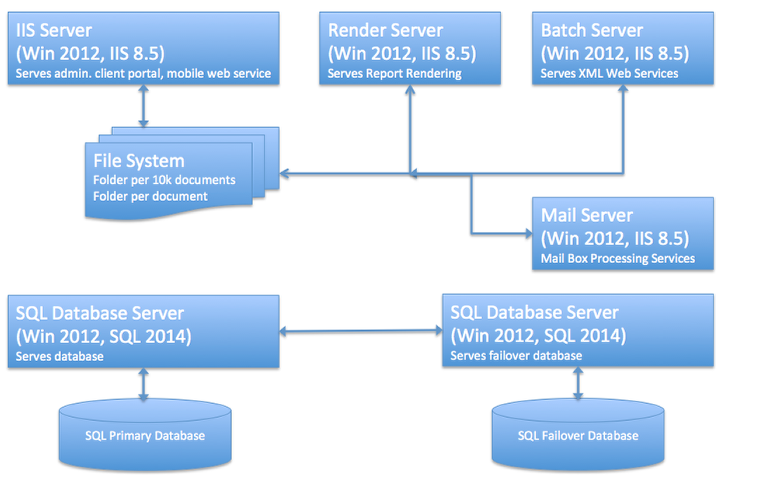 The application is made up of several virtualised servers each with specific roles and are separated on purpose by design. ValuePRO is typically implemented in a multi-tenanted mode for smaller sized customers (1-100 users) and a single tenant cluster of virtualised servers is created for implementations larger than 100 users.
We have zero contention for physical resources on our equipment, so RAM, CPU and HDD space are all provisioned via a corresponding addition of physical equipment.
Managing the application hosting yourself would entail several obvious foreseeable technical, commercial and legal considerations - as such this option should only be pursued by highly resourced organisations that are barred from using any externally hosted cloud service.