Opening a Report
1. Open Word or Excel, go to the ValuePRO tab then press Refresh to perform a sync which will grab the list of jobs allocated to the valuer.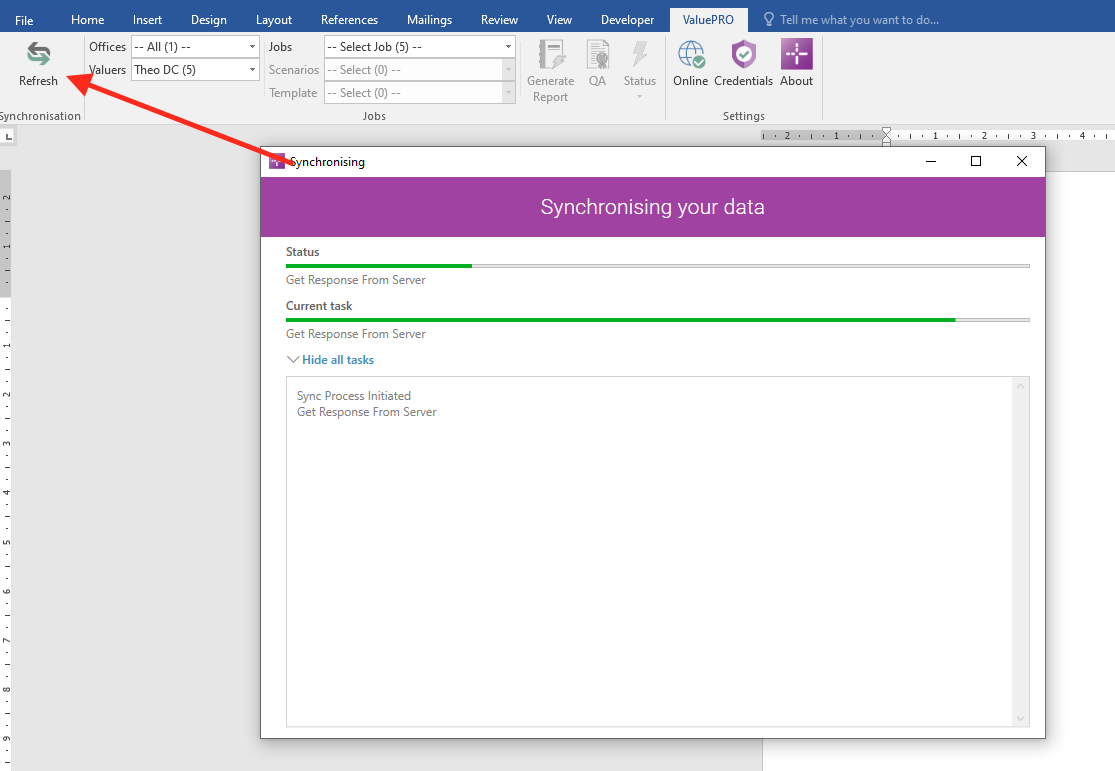 2. After the sync completes, the user can then select from the Jobs drop-down box which will then open the report in a new window.

Notes
Valuers can only open reports allocated to them.
Admin users can open other users' reports as long as they are on the same office.
Master users can open all reports regardless of the office.
3. Reports opened via ValuePRO Office Edition can be distinguished by the two ValuePRO panels on both sides.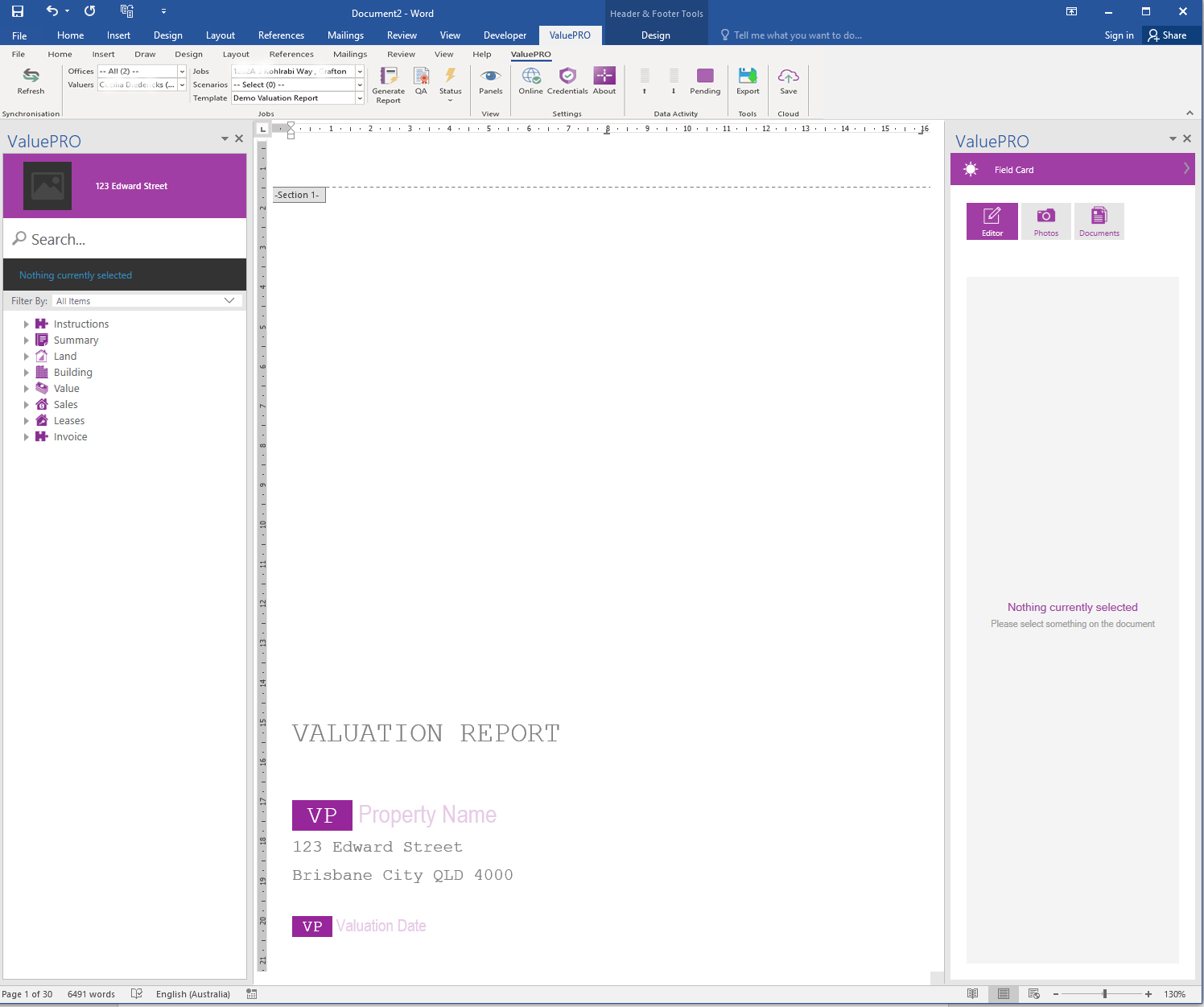 Saving a Report with the Toolbar
Changes made to the report via the ValuePRO fields will be automatically saved as soon as the user gets the focus off the field. If there are changes outside the ValuePRO fields (e.g. formatting changes, one-off sections of the report), the current version of the report is uploaded into the ValuePRO storage as a substitute report so it can be accessed again later with the said changes intact.
Closing the file
Upon closing the Word or Excel window, (if Credentials sync settings "Save to ValuePRO cloud" is set to prompt by being ticked) the user will be prompted if they want to upload the report as a substitute, then press Yes.
(Or make use of the save to cloud button in the ValuePRO Toolbar.)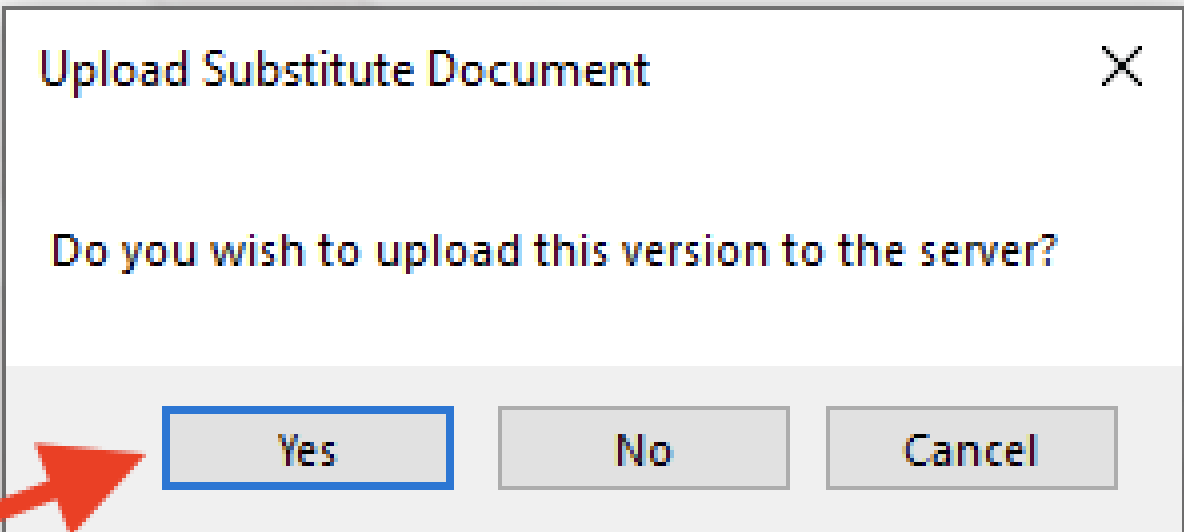 Note: the report doesn't need to be saved locally before it can be uploaded.
The save button
The save button is at the right hand side of the toolbar.

Saving the report locally
Reports generated via ValuePRO Office Edition can also be saved locally using Office's built-in saving feature (i.e. Save or Save As) which can then be worked on again and synced at a later stage.
Report Versioning
Each report uploaded as a substitute is tracked and versioned under the Documents tab of the ValuePRO Standard Edition job card.

The latest version of the substitute report is the version that ValuePRO Office Edition opens by default.
Opening the local copy of the report
Warning: We strongly recommend against opening a local copy of a report. Doing so could result in lost work if there is a more recent version of the report on the ValuePRO server. Only proceed if you are sure that isn't the case.
Upon opening the file, the user will be prompted to sync the document:

Selecting OK will trigger the conflict window which compares the ValuePRO field data saved on the document against the data saved on the server. The user can then choose between the server data and the document.