1. Download the latest installer from https://valuepro.com.au/office/alpha.html.
2. Run the installer and follow the prompt.
3. Once the installation is complete, open Word or Excel -> go to the ValuePRO tab -> select Credentials -> provide the required details then press OK.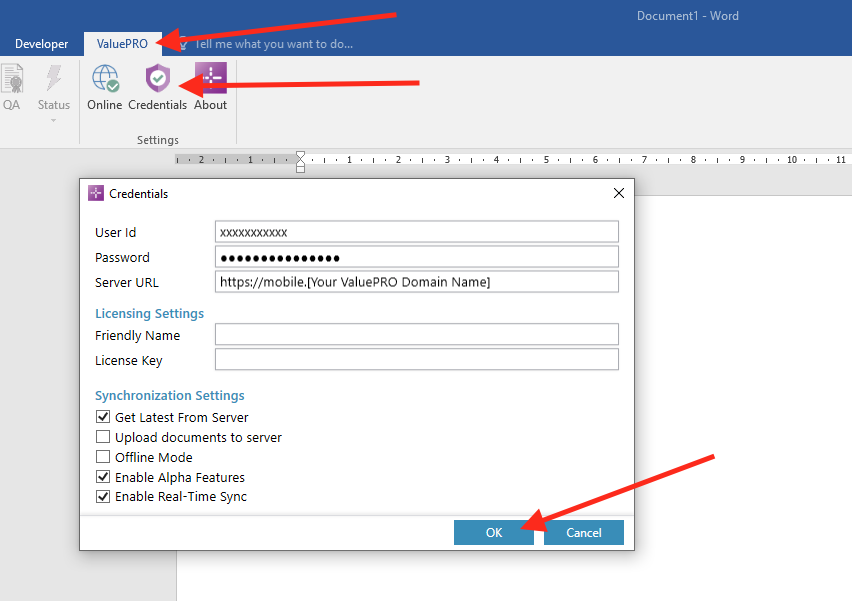 The required credentials are as follows:
User Id
Password (case sensitive)
Server URL (https://mobile.[Your ValuePRO Domain Name])
Friendly Name
License Key
Note: License keys are bound to the computer on first use and are unable to be used on multiple devices. In order to transfer the license to a different computer it must first be 'released' by one of your ValuePRO master users.
Synchronization Settings
Get Latest From Server

(Deprecated)

Upload documents to server - Automatically uploads the current version of the report into the server as a substitute report upon closing the document.
Offline Mode - Forces ValuePRO Office Edition to stay offline and only triggers a sync which uploads ValuePRO field changes upon closing the document or when offline mode is disabled.
Enable Alpha Features

(Recommended)

Enable Real-Time Sync

(Recommended)

- Enables real-time sync for ValuePRO field updates.
4. Re-open Word or Excel after setting up the credentials.