To set up your ValuePRO Office Toolbar
1. Download the latest Toolbar from https://valuepro.net.au/office/alpha.html.
2. Close Word and Excel first. Run the installer file, unzip it and double click the .exe file. Follow the prompt (be sure to be logged in to your desktop as an administrator or "run as administrator" when installing.)
3. Once the installation is complete, open Word & Excel
-> go to the ValuePRO tab
-> select Credentials
-> provide the required details (available from the master user)
-> then press OK.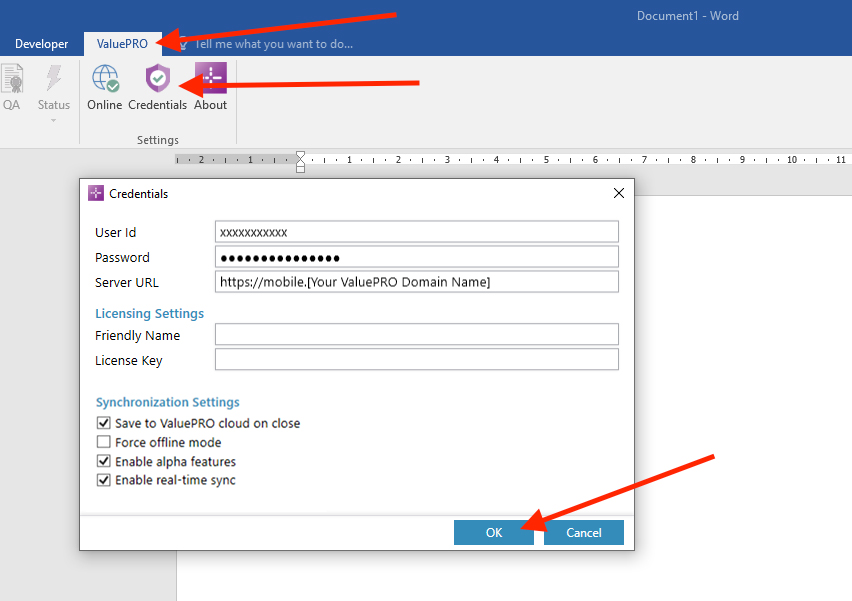 The required credentials are as follows:
User Id
Password (case sensitive)
Server URL (https://mobile.[Your ValuePRO Domain Name])
Friendly Name (can be anything - usually your name)
License Key (find it under "Your ValuePRO Licence" in Standard Edition)
Note: License keys are bound to the computer on first use and are unable to be used on multiple devices. In order to transfer the license to a different computer it must first be 'released' by one of your ValuePRO master users.
Upload documents to server - Automatically uploads the current version of the report into the server as a substitute report upon closing the document. (File available to view under the Documents Tab in Standard Edition)
Offline Mode - Forces ValuePRO Office Edition to stay offline and only triggers a sync which uploads ValuePRO field changes upon closing the document or when offline mode is disabled.
Enable Alpha Features

(Recommended)

Enable Real-Time Sync

(Recommended)

- Enables real-time sync for ValuePRO field updates.
4. Re-open Word & Excel after setting up the credentials. Navigate to the ValuePRO tab.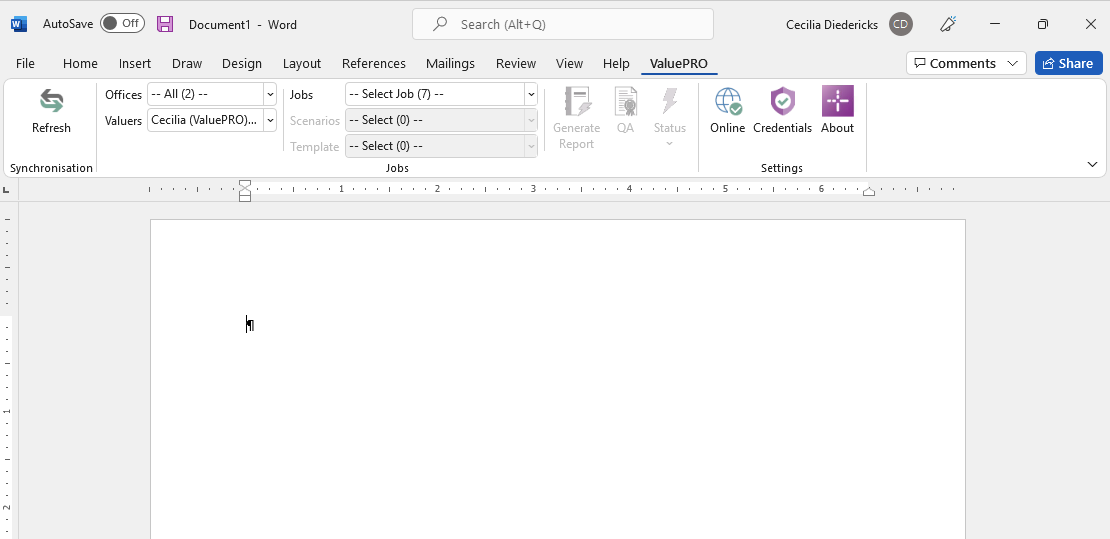 5. Next step is to synchronise and load the jobs from the cloud server by pressing the Refresh button as shown below.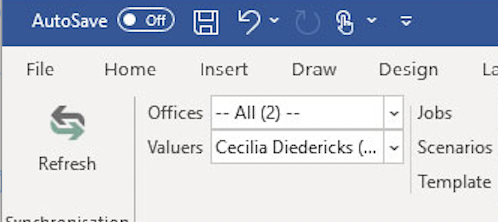 6. Open your job and you are now ready to work.
See also : Guided tour (video) for the ValuePRO Office Toolbar.
If you need any help, let us know by submitting a support ticket.